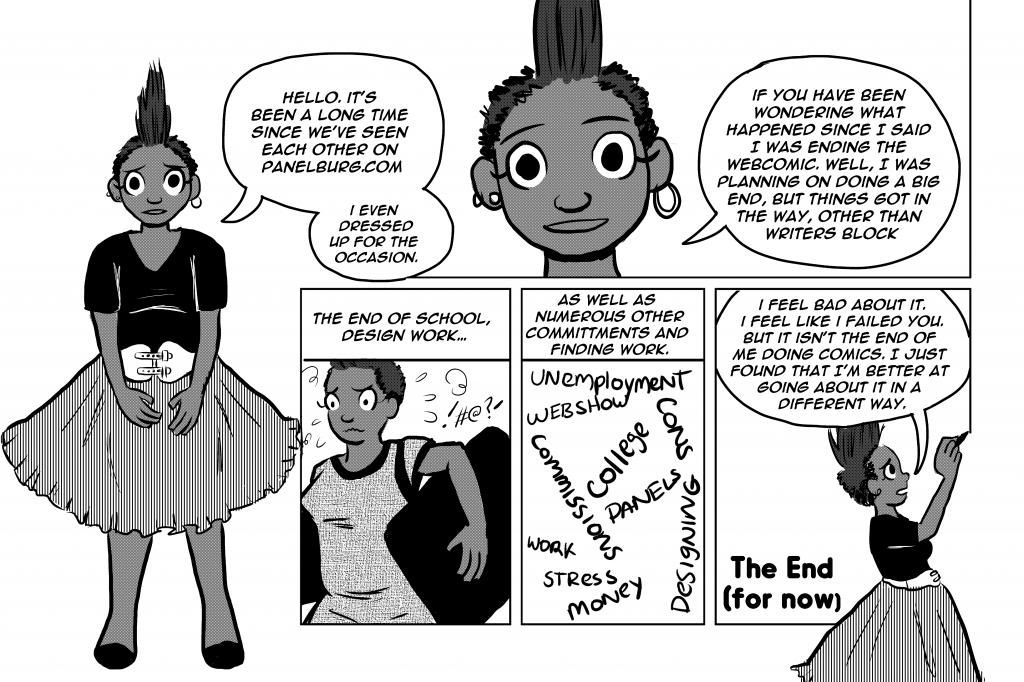 So there it is. The end.
I guess what you're wondering is what could've been?
Well I wrote the ending several times. One was an end of the world event. Another was me facing the demons with 4th wall shenanigans. Another was a party were everyone meets and things get weird. None of them were good.
Some pages were actually pencilled and I will be putting those up on the art tumblr:
vigasartroom.tumblr.com
If you want to see what I'm up too art wise, or if you're a fan of what I make then go there.
As of now, I'm taking commissions. I'm unemployed so this is pretty much my only income. Please keep me in mind if you need any graphic design work or illustration or just plain out comicking and cartooning done.
The info is here.
I have been putting designs up for printing on Threadless. I have a shirt up for scoring for the next week and could really use some help to get it printed. Please give me a good score on my latest work:
http://www.threadless.com/blackandwhite/music-noto/
I still do the webshow Viga Loves Comics. Please watch it here:
http://blip.tv/vigalovescomics
And of coure I have a
Deviant Art
,
Behance
and
Twitter
I'm sorry everyone. I know some of you who read this were friends that believed in me. I feel like I let people down, but mostly myself. I found out something about myself though. I am better suited taking my time and crafting a story, trying to find an ending and completing it before sharing rather than try to rack my brain 3 times a week to think of something funny. I'm not a very good webcomicker. I still wonder if I'm a good fit for it.
But, I will try again. Better than this. Just not too soon.
With love, Viga